Tagny Duff Lecture and Workshop
LECTURE: WASTELANDS: REIMAGINING HUMAN-MICROBE RELATIONS
DECEMBER 4TH // ABRAMS PLANETARIUM // 6PM
Imagine this: The year is 2517. It's 500 years into the future. You are standing in front of a planetary landscape where a mixture of microclimates and unpredictable weather conditions make it impossible to produce and extract raw fossil fuel resources to create energy for life on the planet. Wastelands is a playful, yet, serious biological art and installation project that explore current biotechnology and bioengineering practices that manipulate microbial ecosystems to produce alternative "green" energy for the planet.
WORKSHOP: REMEDIATING VIRUSES
DECEMBER 6TH // C7 HOLMES HALL // 12:30-2:30PM
REGISTER FOR WORKSHOP BY EMAILING: ROBAR.HANNAH@GMAIL.COM
This workshop will take participants through a lab activity of infecting E.colibacteria (genetically engineered with Green Fluorescent Protein) with T7 bacteriophage in order to create images using the same microbes. During the hands-on workshop we will also discuss the cultural, historical, aesthetic, ethical and ecological implications related the bioengineering of bacteriophage in order to better consider the image designs that will be created in the lab. Participants from all disciplines are invited. No science background is required.
Participants are asked to bring an image (it can be a photograph or drawing) of an object, landscape, or ecosystem impacted by E.coli bacteria.  E.coli can be found almost everywhere from toilets, waste water, contaminated food, etc. The image should no more than 3 x 3 inches and fit into a round petri dish. Read the protocol we will following beforehand.
Learn more about the Workshop on Tagny's blog.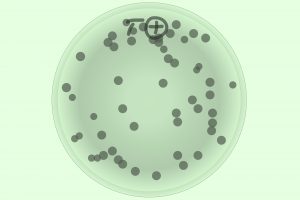 We are pleased to announce our competitively selected artist:
Tagny Duff as our 2017/18 Bridge Artist in Resident!
Tagny Duff is an interdisciplinary media artist, scholar and educator working across media art and microbiology with a particular interest in microbial interaction and scientific practices from a cultural point of view. Duff has exhibited biological art works nationally and internationally in venues such the Science Gallery in Ireland (2011) and Espace Multimédia Gantner, France (2015). She has published numerous peer-reviewed articles on the overlap between art and science methodologies and approaches including the recent publication "Mangling Methods Across Performance Research, Biological Arts and Life Sciences" published by Media-N Journal of the New Media Caucus. She is the recipient of numerous prizes and grants from the Canada Council for the Arts, Social Sciences and Humanities Research Council of Canada (SSHRC), Fonds de recherche du Québec – Société et culture (FRQSC). Duff is an associate professor in the Department of Communication Studies at Concordia University and is the director/founder of Fluxmedia, a network for artists, scientists, and humanities researchers to engage in collaboration across art and the life sciences www.fluxnetwork.net . She is also founder of the Speculative Life Lab housed in the Milieux institute for Arts, Culture and Technology at Concordia. www.speculativelife.com Duff lives and works in Montreal, Québec.
Juror's Statement:
In the current round of the MSU Bridge Artists in Residency project, the jury has selected the project "Wastelands" – an art project speculating on a future 500 hundred years from now when humans are using bioengineering to create biogas, fueling the world with only our waste – excrement, methanogens and viruses. Selected out of a competitive pool, Tagny Duff's proposal argues for an impressive ecocentric vision that reflects an acute epistemological awareness. Her fictitious account presents an alternative perspective to a future fraught with climate uncertainty. Not only are her methods rooted in a strong understanding of science but the jurors were also impressed by her attention to nuanced poetics and a keen aesthetic. Overall, the jury felt that Duff's proposal aligned with research on MSU campus as well as the objectives of the Bridge Artist in Residence.
Congratulations on behalf of the Jury:
Adam Brown – Associate Professor of Electronic Art and Intermedia
Jens Hauser – Curator and Affiliate Faculty Electronic Art and Intermedia
Steven Bridges – Assistant Curator, Broad Art Museum
Rob LaDuca – Associate Dean, Lyman Briggs College of Science
Shannon Schmoll – Director, Abrams Planetarium
---
Bridge is a collaboration of the Department of Art, Art History, and Design, the College of Arts and Letters, the Lyman Briggs College of Science, the Abrams Planetarium and the Eli and Edythe Broad Art Museum
intermedia research within the 'epistemological turn'
where art is no longer only concerned with the production of forms and narratives
alternative knowledge production
informed techno-scientific critique
questioning of the materials and technical media that shape our world views
Call for artists to engage in creative research bridging scientific inquiry, the arts and the humanities