BACKGROUND
In 2010, Electronic Art and Intermedia (EAI), a new area of study was formed within the Department of Art, Art History, and Design at Michigan State University. Its mission is to explore new forms of artistic output brought about by science and technology. EAI builds on the history of Intermedia, which is a philosophy that historically explored the intersection among art disciplines. Expanding on the fusion of art genres, EAI applies this model within the academy more broadly to encourage new forms of research and creative activity by combining research epistemologies and praxis from many disciplines both within and outside of the arts.
Since its inception, the EAI area has invited prominent artists and theoreticians who embody an intermedia philosophy within the framework of MSU's Visiting Guest Lecture Series.
As an extension of the visiting artists program, the newly created BRIDGE Artist in Residency Program enables artists to spend more time on campus, conduct research in connection with departments of their choice, and to produce work by taking advantage of the most diverse facilities and expertise. The mission of the BRIDGE Artist in Residency program is to immerse national and international artists within the creative space of scientific inquiry and research at MSU, connecting the arts, sciences and humanities.
Partnering with the Department of Art, Art History and Design, College of Arts and Letters, Lyman Briggs College, the Abrams Planetarium and Broad Art Museum, the BRIDGE Artist in Residency Program leverages MSU's diverse areas of research to establish an intermedia sensibility that encourages novel research. For the duration of 3 years artists with intermedia sensibilities will engage in cross-disciplinary research on the MSU campus. The Program will engage artists in the field to create cross-disciplinary discourse through a series of conferences, guest speaker panels, workshops, and a scheduled exhibition in 2018 at the Eli and Edythe Broad Art Museum. MSU students and faculty alike benefit from the stay of their hosts, while following the creation of intermedia artworks, from concept to collaboration.
ADAM BROWN
MSU Electronic Art and Intermedia, Area Head &
Bridge Artist in Residence, Director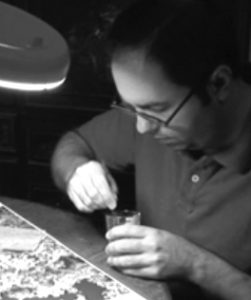 An internationally recognized conceptual artist whose work incorporates art and science hybrids including living and biological systems, robotics, molecular chemistry and emerging technologies that take the form of installation, interactive objects, video, performance and photography. Brown's creative research is informed by a background in Intermedia, a philosophy that provides a framework for breaking down and combining different models of thought and bringing together disparate disciplines, leading to the establishment of new forms of research and creative activity. To this end, most of his creative and research endeavors are collaborative in nature.
JENS HAUSER
Distinguished Affliated Faculty Member, Co-Director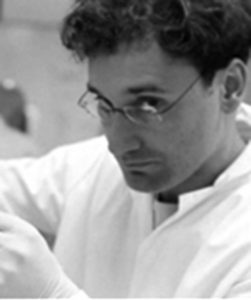 A Copenhagen and Paris based media studies scholar and art curator focusing on the interactions between art and technology. He holds a dual research position at both the Department of Arts and Cultural Studies and at the Medical Museion at the University of Copenhagen, and is a distinguished affiliated faculty member of the Department of Art, Art History and Design at Michigan State University. His curated exhibitions include L'Art Biotech (Nantes, 2003), Still, Living (Perth, 2007), sk-interfaces (Liverpool, 2008/Luxembourg, 2009), the Article Biennale (Stavanger, 2008), Transbiotics (Riga 2010), Fingerprints… (Berlin, 2011/Munich/2012) Synth-ethic (Vienna, 2011), assemble | standard | minimal (Berlin, 2015), SO3 (Belfort, 2015) and Wetware (Los Angeles, 2016). Hauser is also a founding collaborator of the European culture channel ARTE and has produced numerous reportages and radio features.
PARTNER INSTITUTIONS
---